MODERN DESIGN MEETS MONTANA CHARM
The Venue
A CONTEMPORARY-MONTANA WEDDING AND EVENT VENUE
At the heart of Firelight Farm is our historic, fully renovated, 100-year-old barn that we've restored to reveal its original charm while outfitting it with contemporary details that provide guests with a luxurious experience.
This beautifully curated modern-Montana space is just waiting to be transformed for your next wedding or private event. With its rustic structure and luxurious amenities, we invite you and your guests to have an authentic Montana celebration, just minutes from the bustling town of Bozeman.
WELCOME TO BIG SKY COUNTRY
Firelight Farm is rooted in Bozeman, Montana, a charming mountain town located just an hour and a half from beautiful Yellowstone National Park. Here you'll find some of the best fishing, skiing, biking and hiking in the country alongside our vibrant culture, thriving culinary scene, ample shopping opportunities, and a generous lineup of luxury accommodations.

Amenities
All packages and rentals include
Firelight Barn
The two-story barn accommodates up to 130 guests for a wedding, rehearsal dinner or private dinner with an ADA accessible main level. The building can accommodate more than 130 guests for a social gathering with out a dinner set-up, season dependant. A kitchen, two bar areas and men's and women's restrooms are located inside the barn. Rental also includes the use of our wood farm style tables and chairs with set-up and take-down.
Surrounding Grounds
Firelight Farm is also equipped with abundant outdoor amenities including patio seating, power hookups, music capabilities, landscape lighting, food truck hookups, ample room for yard games and a designated smoking area.
Kitchen and Bar
We've designed our barn to include a caterer's kitchen, fixed main level bar and a mobile loft bar. Our main level bar features seating for 12, two Kegerator units with four taps, ice storage bin and a gorgeous copper bar top!
Audio/Visual
We offer a 75-inch TV with USB hookup downstairs, a screen and projector upstairs and internet streaming capabilities for slideshows, movies and games. Multiple power outlets are located inside and outside the barn.
Parking
Parking is available on site with lighting in the main parking area while our loop drive offers convenient drop-off and pick-up at the barn's entrance. *Parking access may be restricted during the winter and spring months.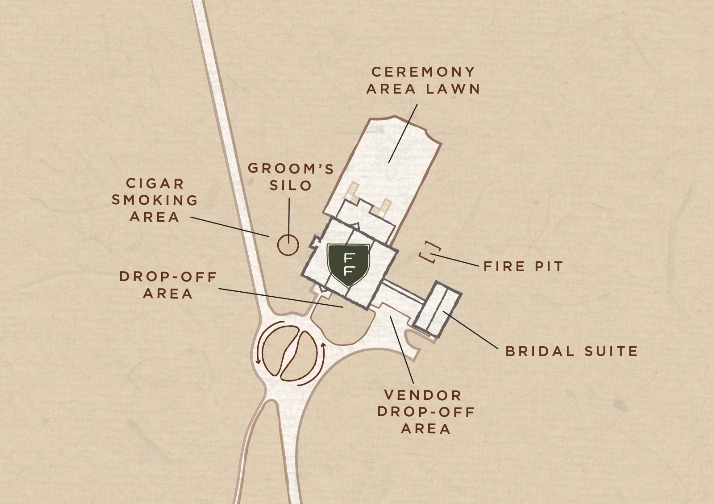 Welcome to Firelight
Surrounded by 100 acres, Firelight Farm provides guests with privacy and plenty of room to celebrate under Montana's famous sky. To the south you'll find stunning views of the Spanish Peaks and to the East you'll catch a glimpse of our beloved Bridger Mountains peeking over the cottonwood trees that line Middle Creek.
Download Floor Plans
Optional Add-ons
Outbuildings
For an additional fee we invite you to take advantage of our luxurious bridal suite and groom's silo lounge, featuring full length mirrors, clothing racks, lounge chairs, mini refrigerators with refreshments, air conditioning and heat. The bridal suite and groom's silo are included in our wedding packages. Rates available upon request for special events.
Fire Pit
Treat your guests to our ample propane fire pit. Perfect for late night conversations, fire lit snuggles and star gazing. The fire pit is included in our wedding packages. Rates available upon request for special events.